:::
2021 Kaohsiung Film Festival (KFF) "International Short Film Competition" Finalists Announced
KFF teaming up with the National Human Rights Museum, encouraging short film creation on human rights issues
2021 Kaohsiung Film Festival (KFF) "International Short Film Competition" Finalists Announced
KFF teaming up with the National Human Rights Museum, encouraging short film creation on human rights issues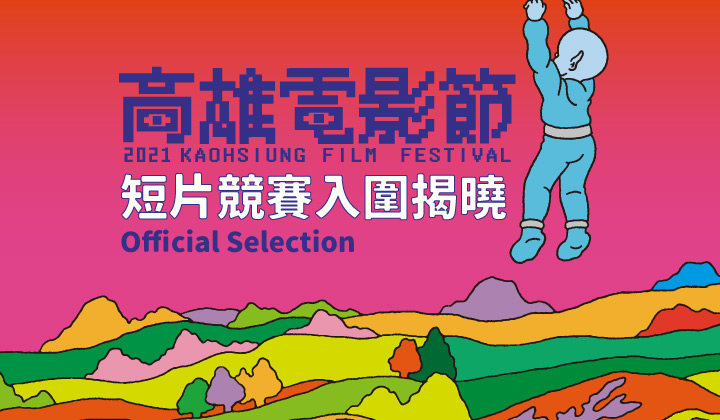 The 2021 Kaohsiung Film Festival announced its finalists for the International Short Film Competition today (Aug. 31st). This year, a total of 2,422 entries from 91 countries were submitted. After many days of intense discussion among the jury  81 films were selected for the "International," "Taiwan" and "VR" sections to compete for 14 awards with a total prize pool of over NT$1.2 million. The winners of the "International Short Film Competition" will be announced on Oct. 24th.
KFF has been cultivating short film competitions and short film sections for years and is the third-largest short film competition in Asia after Tokyo International Short Film Festival and Busan International Short Film Festival. According to the preliminary jury, this year, due to the pandemic, the number of entries for feature films and documentaries was lower than in previous years, but the jury were amazed by the quality and quantity of animated shorts, which are more diverse and richer because they are not restricted by traditional filmmaking methods. The jury were also impressed by the creativity of the shorts that focus on the global concern for human rights and environmental issues.
As for the works of the students in Taiwan, they are also well recognized by the preliminary jury due to their excellent choices in terms of genre, topics, and creative perspectives. Oasis chronicles the journey of an overseas Chinese student from Malaysia Chin-sheng Chen, a victim of the White Terror, who came to Taiwan to study, but was framed by the Investigation Bureau and suffered 12 years of injustice. Today, he is a docent at the National Human Rights Museum, and through telling his story again and again, he embarks on a journey of forgiveness and letting go. My Grandma is an Egg uses an egg as a metaphor for the problem of child marriage in early Taiwan, revealing the situation of women in the old society. In the animation section, the world premiere film Bruise and Girl in the Water were also well received. Girl in the Water is a clever portrayal of a woman's self-healing process after the loss of love by using a fallen wall mold, and its delicate style has already been recognized by three major international animation film festivals: Annecy International Animated Film Festival, Animafest Zagreb and Stuttgart International Festival of Animated Film.
The Taiwan section's narrative shorts are also spectacular this year in terms of creativity. The Golden Bell Award winner for Best Actor Mu-Yi Chen plays the role of a corpse who
turns his funeral scene into his farewell ceremony by accident in Life of Lai. World premieres Tank Fairy and THE Boy Q are unique among the Taiwanese competition short films with their magical and realistic style. The joyful tank fairy and the fierce and powerful political metaphors bring an abundance of human qualities into fairyland. My Sister, produced by Yu-Chieh Cheng and directed by Ke-Yin Pan, is a heart-warming family drama that depicts family bonding. Also a world premiere, Last Meal is the latest film by documentary filmmaker Arrow Peng, whose film portrays the issues of old age and homeless people in a narrative style. The lineup for the International Short Film section is also remarkably strong, with many award-winning and shortlisted films in the world's top three film festivals, including I Am Afraid to Forget Your Face, the first Egyptian short film to win the Palme d'Or at Cannes Film Festival in 2020. A Love Song in Spanish and Motorcyclist's Happiness Won't Fit Into His Suit were both shortlisted for the 2021 Berlin International Film Festival. The Game, which was in the short film competition at the 2020 Venice International Film Festival. Grand Prize winner at the Brussels International Fantastic Film Festival, You're Dead Helen is a darkly humorous account of a man-ghost relationship that cannot be easily shaken off. The Departure, Friend, and Ateh, which depict the bittersweet feelings of teenagers facing separation and coming of age, were also unanimously praised by the preliminary jury.
Besides the International and Taiwan sections, based on the submission data since 2018, it appears that the pandemic has not hindered VR creation, but rather stimulated the expansion of immersive-creation. The widespread use of " VR Live Performance " has also given rise to the formation of the Metaverse, a virtual reality social technology that allows audiences and actors to meet in the world of VR and interact with each other in real-time, creating multiple possibilities of cross-temporal and cross-boundaries performances. The jury were astounded by the sophistication of this year's submissions and the maturity of their creative approach. After days of heated debate, it was decided to increase the number of finalists to allow outstanding works to compete for the awards and open the eyes of the audience and creators.
In the VR section, 21 VR works were nominated , including two selected works from Taiwan: In the Mist by new media artist Tung-Yen Chou, which had a sell-out premiere at the 2020 KFF and was selected for a "Special Project in the Official Selection-Out of Competition" at the 2021 Venice International Film Festival; and LIMBOTOPIA in VR, a graduation project by Wen-Yee Hsieh and Co-Creator Chun-Lien Cheng at Feng Chia University and a KFF world premiere among other exceptional international films, which depicts a realm of souls being reborn after death. In addition, Replacement was awarded the VR Crystal Award at the Annecy International Animated Film Festival, and Goliath: Playing with Reality along with Baba Yaga were two films not only recognized by the Venice International Film Festival but also brought together Tilda Swinton, Star Wars' Daisy Ridley, Kate Winslet, Glenn Close and other top actors to do voice acting. The Severance Theory: Welcome to Respite adopts multiplayer online experience as well as real-time cross-boundaries performance technology to transform the physical theater into an "online immersive interactive theater," allowing the audience to enter the inner world of people with dissociative identity disorder .
The 2021 Kaohsiung Film Festival will run from Oct. 15- Oct. 31. With six new films premiering at the VR Film Lab, more exciting films will soon be announced. For more information, please visit the Kaohsiung Film Festival official website at https://www.kff.tw/TW and our Facebook Fan Page https://www.facebook.com/TaiwanKFF and Instagram https://www.instagram.com/khfilmfestival. 
 
---
Official Selection Announcement of KFF International Short Film Competition
 
International Section

Title of the Film

Name of the Director

Country

A Little Bit Of Paradise

Andrzej CICHOCKI

Poland

A Love Song in Spanish

Ana Elena TEJERA

France, Panama

A Trip To There

NGAI Tsz Kwan, Tracey

Hong Kong

Ateh

Kristie KO

Hong Kong

Blue Lion

Zoia TROFIMOVA

France

Carrousel

Jasmine ELSEN

Belgium, Czech Rupublic

Coffin

Yuanqing CAI,
Nathan CRABOT,
Houzhi HUANG,
Mikolaj JANIW,
Mandimby LEBON,
Theo NGOC TRAN

France

Errand

LEE Youngwoong

South Korea

Free Fall

Emmanuel TENENBAUM

France

Friend

Andrey Svetlov

Belarus, Russia

Georgia

Jayil PAK

South Korea, USA, Canada

Granny's Sexual Life

Urška DJUKIĆ,
Émilie PIGEARD

Slovenia, France

I Am Afraid to Forget Your Face

Sameh ALAA

Egypt, France, Qatar, Belgium

Little Berlin

KATE McMULLEN

France

Louise From 9 to 5

Julien G. MARCOTTE 

Canada

Maalbeek

Ismaël JOFFROY CHANDOUTIS

France

Mild Madness, Lasting Lunacy

Marine LACLOTTE

France

MOM

Kajika Aki FERRAZZINI

France

Motorcyclist's Happiness Won't Fit Into His Suit

Gabriel HERRERA               

Mexico

Naya

Sebastian MULDER    

Netherlands

Noir-Soleil

Marie LARRIVÉ

France

On Time

Zbigniew CZAPLA

Poland, Japan

Red Shoes

Anna PODSKALSKÁ

Czech Republic

Self Scratch

YANG Cheng-Hua

France

Shooting Star

Ariane LOUIS-SEIZE

Canada

Soon It Will Be Dark

Isabell HEIMERDINGER

Germany

Souvenir Souvenir

Bastien DUBOIS

France

Squish

Xavier SERON 

Belgium

Store Policy

Sarah ARNOLD

France

The Departure

Saïd Hamich BENLARBI

France, Marroco

The Game

Roman HODEL

Switzerland

The Intronauta

Jose ARBOLEDA

Colombia

The Lamb of God

David PINHEIRO VICENTE

Portugal, France

The Martyr

Fernando POMARES

Spain

The World Within

Sandrine STOÏANOV,
Jean-Charles FINCK

France

To Feather, to Wither

Hanna HOVITIE

Hungary, Belgium, Finland, Portugal

Too Big Drawing

Genadzi BUTO

Belarus, Russia

Tugging Diary

YAN Wai-Yin

Hong Kong

What Resonates in Silence

Marine BLIN

France

You're Dead Helen

Michiel BLANCHART

France, Belgium
Taiwan Section

Title of the Film

Name of the Director

Country

An Unfinished Film

LIN Yi-Chiang

Taiwan

Bruise

HUANG Ping-An

Taiwan

Butterfly Jam

HUANG Shih-Yen

Taiwan, France

Girl in the Water

HUANG Shi-Rou

Taiwan

Homeless

DAI Wei

Taiwan

Invisible Children

LIU Chun-Yu

Taiwan

Jiang

HUANG Shi-Min

Taiwan

Last Meal

Arrow PENG

Taiwan

Life of Lai

HUANG Chi-Yung

Taiwan

Ms Lin

:

The Retouching Lady

LIN Shih-Chun

Taiwan

My Grandmother is an Egg

CHANG Wu-Ching

Taiwan, UK

My Sister

PAN Ke-Yin

Taiwan

Neko And Flies

TSAO Shih-Han

Taiwan

Oasis

CHANG Hao-Yuan

Taiwan

Solo Trekker

CHANG Jing-Ye

Taiwan

Tank Fairy

Erich RETTSTADT

Taiwan, USA

THE Boy Q

Adiong LU

Taiwan

The Poem of Pakistan

CHAN Hon-Yan

Taiwan, Hong Kong

Undercurrent

CHU Ping

Taiwan

Versus

CHANG Tzu-Hsiang

、




DAI Wei

Taiwan
VR Section

Title of the Film

Name of the Director

Country

In the Land of the Flabby Schnook

Francis Gélinas

Canada

In the Mist

CHOU Tung-Yen

 

Taiwan

LIMBOTOPIA VR

Hsieh Wen-Yee

 

Taiwan

Noah's Raft

Joel Kachi Benson, Tal Haring

Nigeria

Recoding Entropia

François Vautier

France

Reeducated

Sam Wolson

USA, Kazakhstan

Replacements

Jonathan Hagard

Japan, Indonesia, Germany

Strands of Mind

Adrian Meyer

Germany

Baba Yaga

Eric Darnell

USA

Bystanding: The Feingold Syndrome

Nim Shapira,Roi LEV

Israel, Germany, Canada

GOLIATH: PLAYING WITH REALITY

Barry Gene Murphy, May Abdalla

UK, France

Hop Step Sing! VR Live《Hop Summer 2020》

ISHIMARU Kenji,CHIDA Hiroshi

Japan

Hush

Vibeke Bryld

Denmark

JAILBIRDS: Bwa Kayiman

Thomas Villepoux

Belgium, France

Madrid Noir

James A. Castillo

France, UK

Marco & Polo Go Round

Benjamin Steiger Levine

Canada, Belgium

Paper Birds

German Heller, Federico Carlini

Argentina

The Severance Theory: Welcome to Respite

Lyndsie Scoggin

USA

The Hangman at Home - VR

Michelle Kranot, Uri Kranot

Denmark, Canada, France

The Passengers: The Kid

Ziad Touma

Canada, France

The Secret of Retropolis

Eyal Geva, Asaf GEVA

Israel
Children's Jury Award

Title of the Film

Name of the Director

Country

A Bite of Bone

Honami Yano

Japan

Bits

Áron Horváth Botka

 Slovania 

Blue Lion

Zoia Trofimova

France

City Penguin

Florinda Frisardi

Germany

Friend

Andrey Svetlov

Belarus, Russia

In Nature

Marcel Barelli

Switzerland

July 96

Michèle Jacob

Belgium

Matilda and the Spare Head

Ignas Meilūnas

Lithuanian